February 9, 2019
Posted by:

admin_afk

Category:

Blog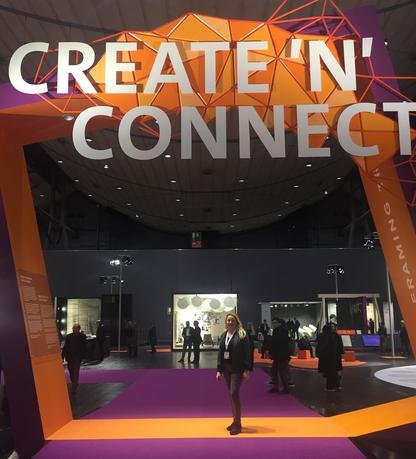 Yes, that's correct. It might not be the best time of the year to enjoy Frankfurt and Hannover, but there were two fairs that I really wanted to attend and I simply had to go. I was glad that I did!
I went first to Frankfurt for Heimtextil 2019. I've been to this fair several times before but was interested this year because the fair has been completely revamped. It's a leading trade exhibition for home and contract textiles, but since things had been changed around in terms of exposition spaces and collections, nobody was sure how well it would be attended. Luckily, the new format and the fact that the fair now has a few shows in different locations didn't keep too many people away. That said, most of the visitors were from other parts of Europe and there weren't many from the North America.
I spent most of my time in Hall 8 where the curtain factories were represented in the Window & Interior Decoration section. The main feedback from visitors with whom I spoke was that there was not as much in the way of new products as they had expected and hoped. Nevertheless, I found the decorative fabrics and carpets in the hall to be quite impressive. Another thing that I enjoyed from the new set-up is that Hall 8 is now home to The Deco Team, which means that international trade, interior decorators, and interior designers are present.
Next, I was off to Hannover for Domotex 2019, one of the world's leading showcases for carpets and floor coverings. Unlike at Heimtex, there were a fair amount of Americans in attendance. In fact, the fair in general seemed to be a bit more international than Heimtex. There were people from other fields than you would normally see at a fair like this – architects and interior designers, for example. This year's theme was "CREATE 'N' CONNECT," and it did seem to be more of a meet and greet type of show where it was nice to see old friends and colleagues in the industry. Domotex made it clear that "the floor sets the stage for any interior, " and that connected floor design could be a key component designers sometimes overlook. I took in environmentally focused design projects, several personalized flooring options, flooring that emulates nature, and rugs that utilize all sorts of effects, such as geometric shapes, glossy affectations, and the "used look." 
Overall, I was very pleased with what I saw at both fairs. The Turkish presence was strong and it is clear that the Turkish textile and rug industry is healthy and continues to expand and improve. It's not just basic items, either. There was a wide range of beautiful sheer curtains and towels of the highest quality. And thanks to improved technology and techniques, the machine-made Turkish carpets looked as good as those that are made by hand and remain very competitive from a price standpoint. And by that I mean cheaper and of a high quality than non-Turkish carpets! Both shows were great places to discover the latest trends – like colors and patterns – that we will most likely be seeing in the U.S. in the next year or two.
Are you ready to purchase in Turkey? Build business opportunities within the Turkish market by contacting AFK Strategies Inc. for support and solutions. We are now also offering the public the opportunity to meet me by appointment at the Turkish Trade Center in New York (10 E. 34th Street) to review product range and discuss Turkish textiles in greater detail.
AFK Strategies Inc. is a boutique strategic advisory and business development company that is committed to serving our partners as their associates in China, Turkey, and the United States. AFK consulting services help companies identify and solve their business challenges via an extensive global expertise. The company assists the growth of small and medium sized enterprises (SME's) in the United States at the local level, while at the same time aiding the growth of U.S. companies in China and Turkey. The services encompass three key areas: business development, supply chain management and brand development. Contact AFK Strategies Inc. to learn more.