June 8, 2018
Posted by:

admin_afk

Category:

Blog
Quick answer? Anything woven. Woven baskets, woven bowls, and even woven wall décor and in-home accents are trending. How would I know? The winter NY NOW®, the Market for Home, Lifestyle + Gift market I attended back in February at the Javits Center in New York City told me!
Most of the exhibitors and vendors at this remarkable bi-annual event are wholesalers (over 2,300), so the market is a key gathering for curious retailers looking to find products that inspire their customers in a huge variety of categories such as home décor and furnishings, housewares, children's toys and pet products, floral and garden accessories, jewelry, stationary, and personal care accessories. 
The variety is astounding and it's one reason why NY NOW® is the largest B2B trade show in NYC with over 20,000 attendees from around the U.S. and around the world.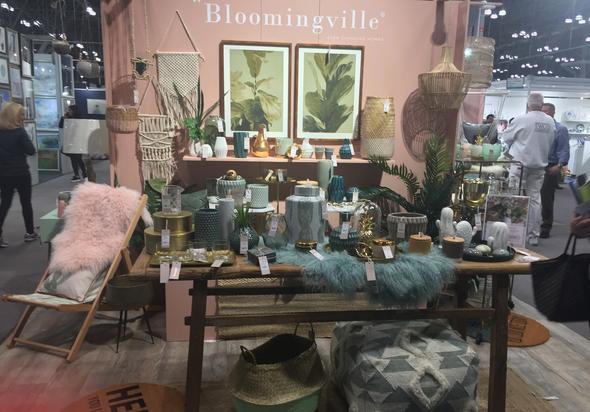 I was hosting my partners at this particular event and there were three reasons that made me eager to guide them around the market:

1. To see the exclusive product launches.

2. To enjoy the well-organized floor plan that allows access to everything under one roof.

3. The event is in New York. It's the center of design, trends, fashion, sales, food, and fun!
Quick answer? Anything woven. Woven baskets, woven bowls, and even woven wall décor and in-home accents are trending. How would I know? The winter NY NOW®, the Market for Home, Lifestyle + Gift market I attended back in February at the Javits Center in New York City told me!
As my partners and I got started and began to check out the show, it became obvious that the biggest conversation for retailers and shop owners revolved around the need to establish an online presence and an online store. If you do not yet have that in place, you need to do so immediately in order to reach new customers and increase your shop's revenue. It will require extra effort, patience, and capital, but you will be rewarded with increased (sometimes drastically) sales opportunities.
The Accent on Design® and Artisan Resource® sections were core parts of the market and of great interest to us, so we headed to those areas to give them a look.

Accent on Design® was great. It focused on original and contemporary design – anything new, innovative, or really going for it in a manner not yet seen. There were about 150 design brands in this section. Each of these brands had been carefully vetted by the market organizers to provide retailers with the most unique examples of creative and contemporary design; quite simply, these vendors are considered to be the best in their field
 Artisan Resource® featured exhibitors with designs that were handmade primarily through global artisan cooperatives. The goal of this part of the market was to connect US-based importers with international producers and exporters. The international producers in Artisan Resource® know how to meet export demands while at the same time remaining innovative and committed to cultural preservation and sustainability. Items on display fell across several categories: tabletop, ceramics, textiles, home decor, jewelry, and apparel. Ceramics, glass, metal, textiles, natural fibers, recycled materials, paper, and leather were some of the materials in use.
Sustainability was a huge component of this year's NY NOW® market. Retailers want sustainable products, and thus, sustainability remains a requirement for most artisans and makers of handmade brands that present their wares at NY NOW®. Regardless of where a product comes from, of paramount importance to a large segment of buyers is how it's made, what it's made from, and who the craftsmen making the product are. Goods that are made of ethically sourced materials, made by Fair Trade and/or local manufacturing standards, and minimize environmental impact are in high demand. Organic cotton, natural fibers, burlap, hemp, and organic linen are currently very popular.
One of the interactive sessions that we attended and particularly enjoyed focused on Emerging Trends in Personal Care Products. The speakers were Allan Share (President of the Spa Industry Association) and Patti Biro (owner and founder of Patti Biro and Associates, a respected consulting firm in the spa and wellness industry). My partners and I were fascinated to learn that skin care products are outselling color cosmetics for the first time in the history. Perhaps this is due to the aging of the Baby Boomer generation, but it also has to due with the understanding of the importance of safe skin care. As a result of this popularity, the personal care product marketplace is exploding with more options than ever. Spa and wellness products are being sold locations as diverse as highway rest stops and lawn and garden centers. Also of note, skin care products from Korea were on display in greater numbers than in the past. The demand for beauty products made in Korea – especially facial – is growing in North America. I believe that some of this popularity is due to the effective work of the South Korean Government to create a campaign that capitalizes on the existing beauty culture.
NY NOW® was a wonderful experience – we loved it! – and looking forward to attend the summer market with surprises that is scheduled for August 12 – August 15.
To learn more about business building opportunities in the American home furnishing  industry, contact AFK Strategies Inc., leaders in business strategies and solutions.
AFK Strategies Inc. is a boutique strategic advisory and business development company that is committed to serving our partners as their associates in China, Turkey, and the United States. AFK consulting services help companies identify and solve their business challenges via an extensive global expertise. The company assists the growth of small and medium sized enterprises (SME's) in the United States at the local level, while at the same time aiding the growth of U.S. companies in China and Turkey. The services encompass three key areas: business development, supply chain management and brand development. Contact AFK Strategies Inc. to learn more.