November 7, 2017
Posted by:

admin_afk

Category:

Blog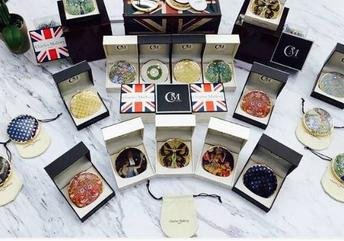 Autumn in New York. Is there anything better? It's really about as good as it gets, especially when NY Women's is in town. NY Women's is an incredible fashion event that brings in-demand brands and designers to town to showcase the apparel, footwear, and accessories of their upcoming Spring '18 collections. The whole event is organized by UBM Fashion and is separated into a variety of distinct shows. I was most excited to check out COTERIE (Elevated Contemporary Apparel, Accessories and Footwear for Women) and SOURCING@COTERIE (A Juried Selection of World-Class Factories and Fabric Providers).
After spending far too much time ogling the gorgeous offerings at COTERIE, I pulled myself away to check out SOURCING@COTERIE. This is where the high-end factories and fabric providers were displaying their wares.
SOURCING@COTERIE was a chance for the curated group of manufacturers in the show to network with international luxury brands and build relationships. The manufacturers were unique: they specialized in lower minimums and high-quality production. Walking through the bustling exposition, I was taken back to my early days in the apparel retail business when I would regularly travel all over Europe and North Africa, and later to China and Vietnam. During my travels, the more I saw, the more I understood about how the business worked; and, more importantly, how it should work. Then – as now – it was important to ask four key questions in order to help select the country that would best manufacture your apparel.
1. What's the product? 
Is it a shirt? Perhaps a tailored jacket? Are you working with a customized jacquard fabric? Some countries excel at one type of product while others -such as Italy, Spain and Turkey – offer manufacturing options for many types of products. Your life will be a lot easier if you can manufacture a variety of apparel in one country as you don't necessarily want to manufacture your handbag in one country and be forced to find another that can handle your tailored denim.
2. What's your price point and margin?
Everybody knows that China and South Asia lead the way when it comes to low prices. But if you care about the manufacturing process itself, and the craftsmanship and quality, that part of the world might not be best. Premium and high-end apparel brands should look toward countries such as Turkey, Italy, Portugal, and the United States for their manufacturing. It is far easier to oversee the process and explain your specific needs in those countries. Sure, you might not be able to get the cheapest prices, but you'll get flexible payment terms, qualified human resources, and accreditation with the required health and environment standards.
3. So where should I have my product produced?

Take some time to visit several factories before you make a choice and begin production, or let a company like AFK Strategies help you audit your options. You need to know how organized, reliable, responsible, and dependable your potential partners are. Countries such as Italy, Portugal, Romania, and Turkey are distinguishing themselves as excellent locations for apparel manufacturing. They understand how to produce top-notch goods without demanding the minimum order size requirements set by many manufacturers in the Far East.
4. Is it ethical and sustainable?

It is important to be sure that your product is being manufactured in a responsible, ethical, and sustainable manner. To ensure that this is the case, several countries have established guidelines that make it easier to choose a manufacturer. For example, in Turkey, most quality apparel manufacturers have set up CSR (Corporate Social Responsibility) departments within their companies to monitor production and keep an eye on the company's effects on environmental and social well-being.​
These days, it is more important than ever to decide on the right sourcing location. I find that Turkey offers the key ingredients that are indispensable for apparel retailers: Quality of the product, the capacity to meet diverse sourcing needs, and fair pricing. Turkey has a well-developed supply chain and a vertical manufacturing capability that allow manufacturers to quickly fill small and varied orders. The country is a top producer of cotton, wool, and polyester, and hosts a huge manufacturing sector capable of producing all types of apparel, including denim, knitwear, outerwear, swimwear, underwear, lingerie, as well as a variety of in-demand accessories. Everything can be handled within the country – there is no need for multiple locations!
I love what China and Vietnam have to offer (I'll write about my experiences there soon!) but I think it's fantastic that countries such as Turkey have emerged to provide an attractive balance of responsible production, quality craftsmanship, manufacturing agility, and fair prices. AFK Strategies' exporter companies are under the strict control of international buyers' auditing systems and our producers continuously maintain a production climate that is humane, environmentally friendly, and in compliance with both national and international laws.
AFK Strategies Inc. is a boutique strategic advisory and business development company that is committed to serving our partners as their associates in China, Turkey, and the United States. AFK consulting services help companies identify and solve their business challenges via an extensive global expertise. The company assists the growth of small and medium sized enterprises (SME's) in the United States at the local level, while at the same time aiding the growth of U.S. companies in China and Turkey. The services encompass three key areas:business development, supply chain management and brand development. Contact AFK Strategies Inc. to learn more.